The Talking Wall is a project that lies at the intersection of art, architecture and urbanism. The artist Matthew Fung developed the initial idea as a response to the disparity and disconnections we experienced during the pandemic.
The Talking Wall opens at the Collingwood Yards basement on Friday 26 November.
What makes an artwork urgent and relevant with times? How does Talking Walls respond to some of the strangest times that we've all got to witness?

The initial impulse to form a point of connection at a time when artists and designers have been disadvantaged, displaced and disconnected means it is more important now than ever to create a beacon for our city. The Talking Wall is a project that lies at the intersection of art, architecture and urbanism. It is a conduit to start dialogue which ultimately leads to the healing of our community. There is no better time — we are living in an age of collaboration and shared knowledge.
What do walls, isolation and division mean to you in the time of pandemic? How did these concepts resonate with you and your work?
Being a Collingwood resident, I see the gentrification happening around me everyday — all the walls are symbols of 'division'. Scaffold systems are slowly characterizing our skyline. I was inspired to re-use the tools that constituted dividing walls for creating walls that connected us instead. The initial idea of the project was developed as a response to the disparity and disconnections we experienced during the pandemic.
Is there something about being an artist that makes you feel more vulnerable to lack of connection to the community during these challenging times?
I have always strived to create public spaces that encourage gathering and socialising. After the restrictions and lockdowns, my goal now is to de-stigmatise public spaces and celebrate acts of community gatherings and bondings. In hindsight, I have realised that going through these hard times has given us a chance to re-vitalise and tie the community memories and experiences together.
How did the notion of public spaces change during the pandemic, isolations and lockdowns?
The role of public spaces has definitely been shifted whilst observing the 1.5 metres rule ­–­ this has inevitably affected behaviours.
I believe that the sustainable future of the arts is through collaboration — connecting people from all different industries to build knowledge and an ecological community. My current focus is aimed at creating modest and tactical solutions that capitalise on materials that surround us. I strive to re-think and re-organise public spaces by establishing an open environment for discussion and learning.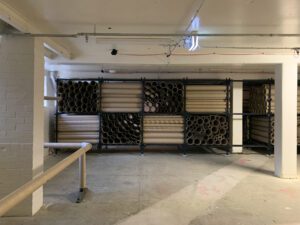 This work lives and breathes Collingwood. Can you unpack the story behind?
The project is a collaboration with the Collingwood Neighbourhood House and BANH Inc. It was a matter of being at the right place at the right time. I was going for a classic lockdown walk and met Wagner — a community worker — when he was setting up for a food donation they organise every Wednesday. He showed me the amazing carpark space that oozes history and charm. It immediately inspired me and before I knew it, I pitched the installation idea and I applied for a grant through the City of Yarra. I also volunteered a few times at their events and met lovely people that reminded me of my own childhood surroundings, so I had an immediate connection. I became so interested in this melting pot of cultural energy in the heart of Collingwood and very quickly fell in love with the community. The recording process was a long process — developing a relationship and interviewing the people I met. I look at the Talking Wall as a point of connection. A median for stories to be shared and a platform for multi-disciplinary artists to collaborate.
Is the version of your work at Collingwood Yards final? Or are you going to take Talking Walls to other spaces and adapt the work according to its current environment?
Definitely not! I hope to develop this idea further into a larger version. The project is so dynamic and versatile that I would like to develop a pavilion in the Collingwood Housing carpark where artists can collaborate with the community and develop work that will activate The Talking Wall. This way the installation is ever evolving and challenges artists to work with a community-focused brief.
What is next for your artistic practice?
My practice is ever-evolving. I will continue working at the intersection of architecture, community and art. I would like to create more projects that focus on the power of the built environment to shape our relationships and experiences. I hope to collaborate and create platforms that involve inter-disciplinary artists from a range of backgrounds. We can work together to create a new model of public spaces that contribute to local culture beyond the economic realm.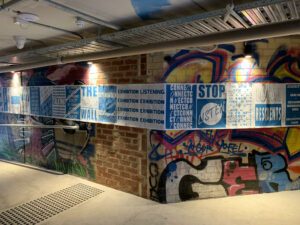 Visit the Talking Wall at the Collingwood Yards basement on 26–27 November 2021.