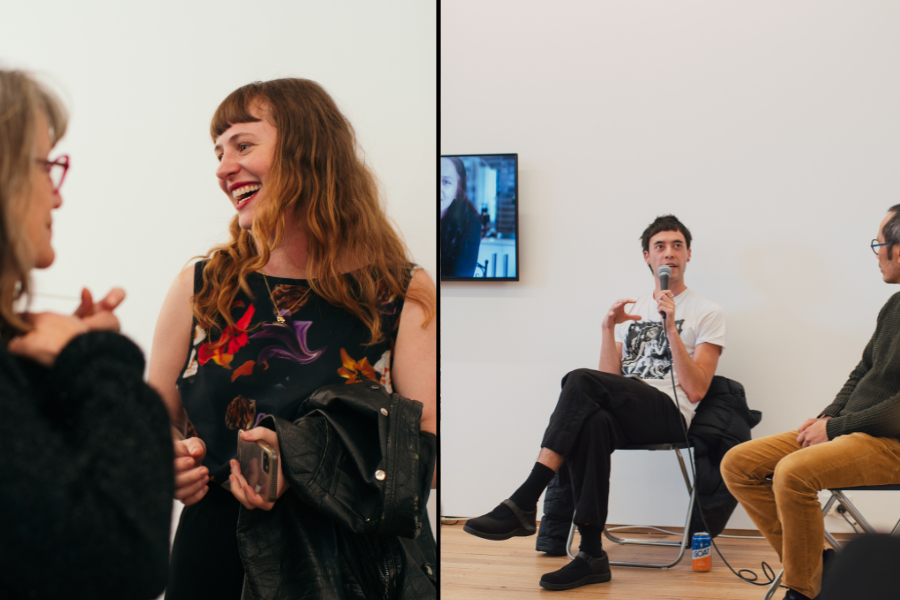 West Space was founded by artists in 1993. Almost three decades on, they operate as a contemporary art gallery, a commissioning organisation, and as a space for critical reflection and curatorial vision. Through on-site exhibitions and off-site programs, West Space seeks to build local and global communities around contemporary art.
Tell us about the latest exhibition at West Space?
Seb: Our current and last exhibition of 2022 has been put together by local artist Hoang Tran Nguyen. House of Mother Tongue, House of Other Tongue, presents artworks and cultural material, both documenting and inspired by his involvement in a campaign to stop the discontinuation of the Vietnamese Bilingual Program at Footscray Primary School. Hoang's children attended the school at the time. By making legible the ways that different forces like monolingualism, gentrification, bureaucracy and professionalism intersected in the event of the program's cancellation, Hoang has been able to demonstrate the ways that this singular moment fits into a longer history and structure of colonisation in Australia. Because West Space was originally begun in Footscray before moving to Collingwood via Melbourne's CBD, there are lots of interesting conversations to be had about the rapid transformation of places like Collingwood and Footscray, as well as the role of art in this process, and the responsibility of places like West Space to engage deeply with these conversations, particularly as they relate acutely to local audiences. 
The exhibition continues at Footscray Community Arts, and on select Saturdays a shuttle bus will drive between the two venues, hosting readings, singing, stories and performance. There will also be a symposium about language and community at FCA. We're thinking of these programs as crucial parts of the exhibition itself. 
Joanna: You may have also seen our 'micro-gallery', the West Space Window. This space is viewable 24/7 next to the entry point to our main gallery. It's for testing out ideas, playing with scale and experimenting with ways to engage with visitors walking by. Local artist Abbra Kotlarczyk is currently showing a work that expands across Bus Projects and the West Space Window. Titled, 'To touch or strike a fondant ground [north proposition]', this body of work looks at genealogy, familial history, material kinship and queer modes of reading and resistance. This work will be activated by readings across the two sites on the afternoon of Friday 9 December.
What's on the horizon for West Space?
Seb: 2023 marks 30 years of operation for our organisation. Stay tuned for celebrations!
Joanna: West Space has a big year next year! We'll be presenting six major exhibitions by Australian artists and curators in the gallery, alongside ten projects in the West Space Window, supported by publications, digital commissions and a series of programs that aim to activate the works of art through performative action and lively conversation.
We kick off in January with the Naarm-Melbourne premier of POWA WAVE by Hannah Brontë, a Wakka Wakka/Yaeel visual artist whose practice draws on women's empowerment, hip-hop and protest. POWA WAVE is grounded in the history of surfing dates as far back as the 12th century in Polynesia, predating European contact. A Queer romance that follows two lovers in the waves, Hannah explores the radical act of being a woman in the ocean today.
And as Seb said, next year we turn 30! This milestone offers the chance to reflect on a story that is much larger than West Space—the narrative, context and lifespan of artist-run initiatives in Australia and beyond. We'll be reflecting on our place within community, and the ways we can generate a sense of kinship between art, artists and audiences. We'd love to hear your thoughts.
What does a day at Collingwood Yards look like to you both?
Seb: I work three days a week between Wednesday and Friday, spending most of my time in the gallery doing emails. My favourite part of the job is talking to visitors about the exhibitions on display. I hope everyone in the Yards feels like they can come in and have a conversation about what's going on here, and I really love to know what others have been up to as well. 
Joanna: A typical day for me starts with a coffee from Padre, and if the sun is out, I'll be trying to have as many meetings in the courtyard as I can. We love when people pop in for a chat, so please feel welcome to spend some time at West Space.